The
Grand Ballroom
The magnificence of Crystal Plaza is best captured in our Grand Ballroom. Our spacious 5,000 sq. ft. ballroom is perfect for hosting an event with up to 350 guests. Within the glamorous room, you'll find over 30 crystal chandeliers adorning the ceilings and walls, a gold detailed ceiling, ornate columns along the walls, a round white marble dance floor, and floor-to-ceiling glass windows overlooking the garden.
The
Gardens
Crystal Plaza's well-manicured Gardens create a picturesque setting for any event. Set on 5-acres, our immaculate gardens can host gatherings of up to 350 people and offer a gazebo that can serve as a focal point or ceremony space. The gardens are adorned with stunning street lamps imported from Italy and gorgeous flowers that bloom throughout the spring and summer.
The
Atrium
Upstairs at the Crystal Plaza is The Atrium, our multi-purpose and contemporary event space. Here you'll find white and silver Italian hardwood flooring, an unobstructed fifty foot skylight, and stunning crystal chandeliers. It's perfect for ceremonies, corporate events, cocktail hours, after-parties, and more.
The
Living Room
Just off the main entrance sits The Living Room. This stately cocktail area accommodates up to 350 guests and features recently renovated bright charcoal hardwood floors, a large wooden bar, various cocktail tables, and a fireplace at its center. It also encompasses an adjoining covered indoor-outdoor garden patio space separated by sliding glass doors. For everything from a wedding cocktail reception and corporate holiday party to a seated-dinner affair or an anniversary soiree, The Living Room embraces guests with comfort and ease.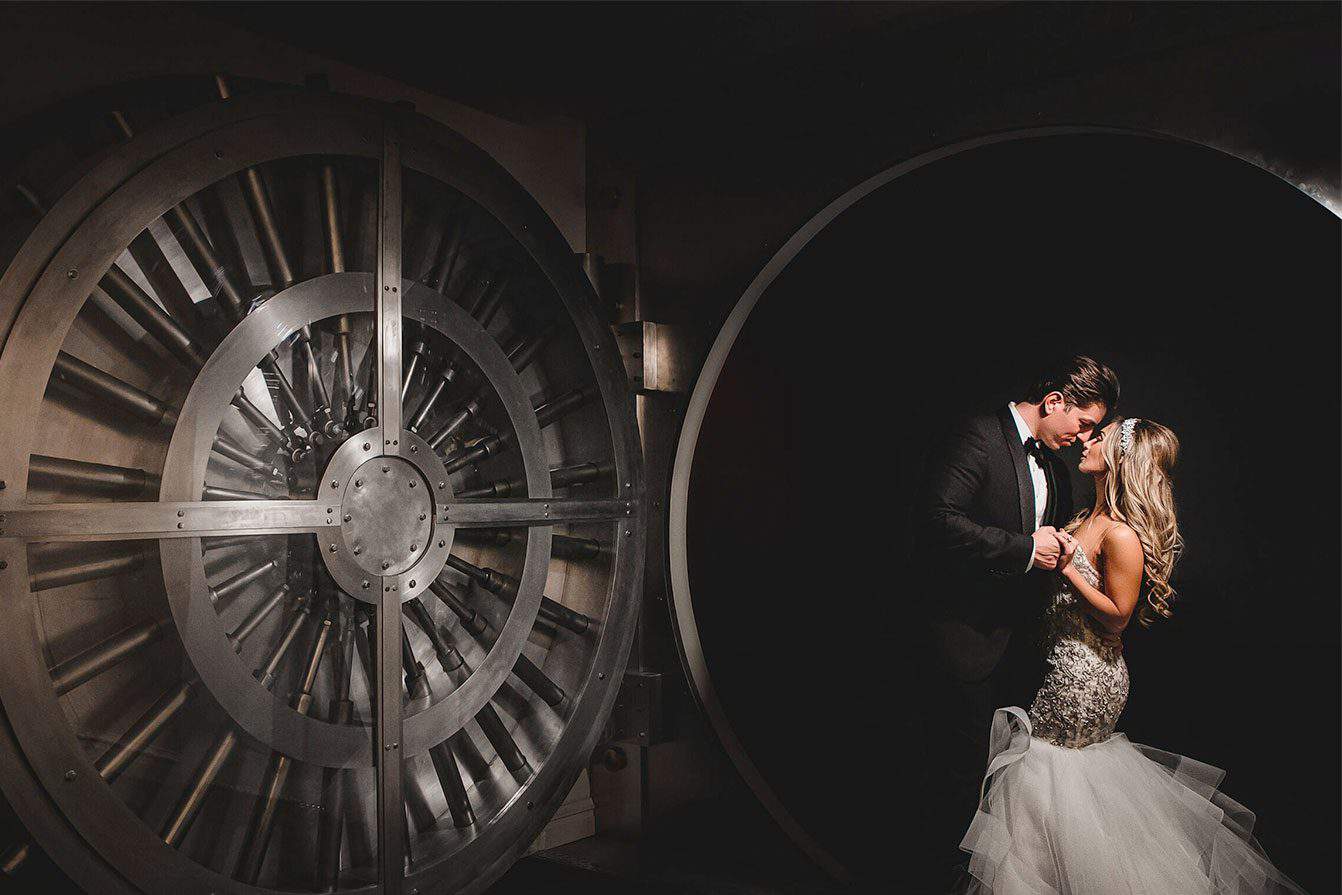 The
Vault
Located on the sub-level of Crystal Plaza, The Vault is ideal for pre-event activities and private small functions. Here you'll receive the VIP treatment and have access to amenities like a golf simulator, barbershop, punching bag, pool table, wine cellar, ventilation for cigars, TVs, restrooms, and so much more.
The
Lobby
As guests walk into Crystal Plaza, they're greeted by The Lobby—a stunning entryway adorned with original stone and a double-height, luxurious foyer with a one-of-a-kind crystal chandelier. The bespoke chandelier instantly catches your eye as you gaze upon its magnificent 6,000 glass crystals hand blown in the Czech Republic by world-renowned glass designer Lasvit.